Two weeks ago I received a box from a stranger. I had never met her but I knew her name: Linda. The box was filled with delicious food and snacks and the note attached said,
"Thank you for being my first foodie penpal!"
The Foodie Penpal program was launched in 2011 by the Lean Green Bean and is designed to connect strangers from around the nation who all have one thing in common: a love for food!
When I received my penpal, Linda, I wasn't sure what to expect. We immediately started communicating through email and getting to know each other. Linda was diagnosed with type 2 diabetes on November 11, 2013. She was told she could get off the medicine if she lost weight and ate sensibly. Seventy-eight pounds later she feels better than ever! She has to be more conscious about what she eats but she doesn't think of her lifestyle as restrictive. "I am exploring a new world of food with a healthful eye and less processed take on cooking," she says.
Linda and I were perfect for each other
In the past year I have taken a good, hard look at my own cooking style. When I first decided to become a vegetarian over three years ago, I replaced all the meat in my fridge with soy and other highly processed, quick to prepare foods. Without the meat, I thought I would be healthy! I assumed that eating vegetarian would make me instantly skinny and feel great.
But the truth is, I felt miserable. The weight didn't come off and instead I just found myself eating more carbs and sugar. I wondered, where did I go wrong?
When my vegan friend Nicole came to town to visit, she cooked for me a few nights of the week and showed me how I didn't need the soy or the stuff that comes from a box. She spoke of "plant based" living and even showed me how to cook without oil (non stick pans are great).
The realization came like a ton of bricks. I had gone from eating a fatty meat diet to eating a fatty vegetarian diet. Just because you are eating vegetarian, doesn't always mean that you are eating healthy.
So I cut down on the processed foods and started eating more plant-based foods. I cooked things from scratch, I prepared things ahead of time, I cut down on my portions, I became more conscious of the foods I ate and whether they were organic or from the earth, and I watched in amazement as the weight started dropping off.
Ten pounds later and I feel greater than ever!
The Lentil Connection
On April 15, I sent off Linda's secret foodie package. In it I included green lentils (and a Pakistani recipe my family makes), cumin powder, coconut macaroons (perfect for low-glycemic diets, and green tea (something I often drink in the afternoons).
Two days later I received my package from Linda. This is what I received: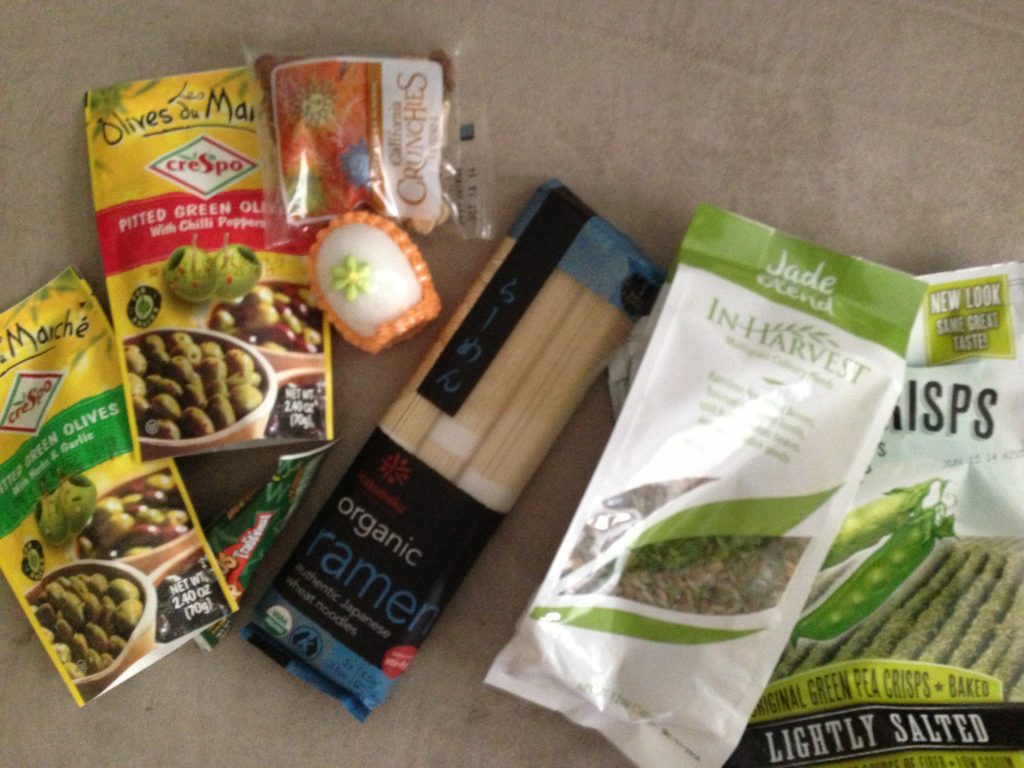 She sent me:
Hummus
Ramen authentic Japanese wheat noodles
A lentil, rice, garbanzo bean harvest mix
An easter egg
Two bags of olives (different flavors)
Snap pea snacks
Crunchy almonds
She also included a note thanking me for being her first foodie penpal. It was so sweet! I ate the almonds and snap peas immediately. They were so good.
I thought it was great that we sent each other lentils! They are such a great staple of a vegetarian diet.
Lentils lower cholesterol, stabilize blood sugar, and are a great source of protein!
I thoroughly enjoyed my first Foodie Penpal experience. I sent Linda a card with my box and it said, "Nothing happens by coincidence," we were meant to cross paths.
I hope you will join me as I participate in next month's Foodie Penpal, or just follow along as I learn from other foodies across the nation.