I couldn't believe I was taking off my clothes…
Driving to my friend Melissa Vlahos' house, I remember thinking "Am I really doing this? Can I really allow myself to be this vulnerable?" All the while as I was driving, I found myself drifting off thinking about the steps that led me to this point. The intense body hatred I had as a teenager: my small breasts, my big butt, my stretch marks. To my weight gain in my 20's and the Facebook shaming when an old classmate commented on how "fat" I was. To my new "mom body" with its new stretch marks, stretchy skin and curves.
It wasn't perfect. But this was it. My Body. 
At times I might come across as a super confident, or a girl that has her "shit" together, but sometimes I find myself unraveling. And that is exactly where I was – unraveling – as I wiped my nervous hands on my dress in the car at Melissa's driveway. "Get it together, Suki."
The UNLEASHED Project
Melissa has the sweetest eyes. The kind of warm, welcoming eyes that you melt into. I always remembered that about her even from the first time I met her. We hung around in the same spiritual circles so when we finally became friends, it seemed effortless. We speak the same language.
On a cool Florida morning she called me to ask me a special question: would I be part of her therapeutic social art project she was working on called UNLEASHED. She explained to that UNLEASHED is an artistic expression of 108 women of all ages, sizes, shapes, colors and backgrounds. Through a guided meditation of mental imagery, body sensations, personal color theory and emotional flooding she fosters a newfound love for herself. She told me that she would create a space of healing and ask me questions about my body and loving myself. We would do a meditation and I would tune into my body and my self. I would then strip down my clothes and explore my body with paint as she took pictures. Afterwards, she would ask my how I felt about the whole process. I said YES and signed up straight away. (Donate now to the UNLEASHED fundraiser)
Now here I was standing in her doorway as I she smiled at me with those big, welcoming eyes. 
On Letting Go…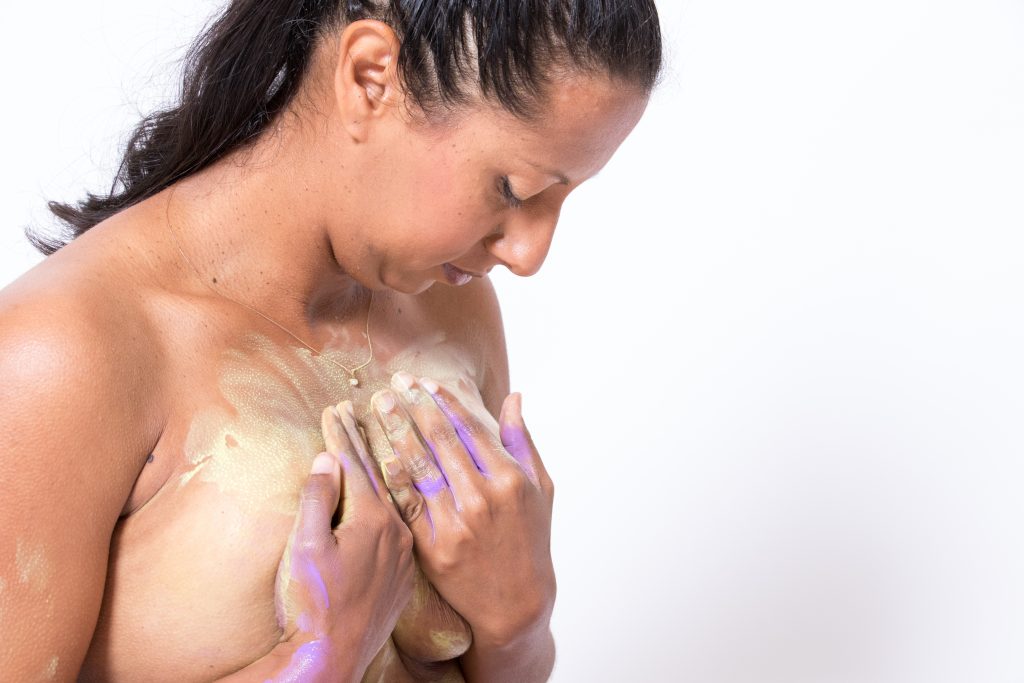 When you begin to truly look at yourself, your body, every mole, every flaw, every part of yourself, you unlock a whole new level of healing. Melissa sat me down and made me feel very comfortable. She asked me questions about my body, loving myself, how I was feeling. As she created the UNLEASHED project, she invited 108 women to come to her home studio and jump into this deep, divine vulnerability.
I felt my walls coming down as I relaxed into this space, taking off my clothes.
She led a meditation and I closed my eyes. Feeling myself naked. Drifting out of my body, I once again fell into my mind. I realized how much I keep my guard up. My shoulders were tight, my jaw, my butt muscles, my yoni. Every part of me so tense and gripping. Defense mode. My mind slowed down as I finally started to listen to my body.
I repeatedly told myself to "soften." And "Relax." Then Melissa handed me a box of paints and let me know it was time to let go and create.
The Loving Yourself Journey
As I spread the paint across my breasts, I found myself actually looking at them. For so many months they had been "only for breastfeeding." I had forgotten these breasts. The ones I hated so much when I was young. The ones that were barely an A cup. I used to dream of the day I could get breast implants. I thought that would make me happier. Now I was looking at my breasts in a new way. They were sensual. They were powerful. They were nurturing. They were perky. They were round. They were loved.
I looked down at my belly. My rolls of belly fat. Wow. I actually loved this belly. This was the divine space that once held my child. Rubbing that paint around I was so empowered to say to myself, "Hey belly. I love you! You're pretty awesome." My body was my canvas. I started to feel more comfortable expressing myself on this beautiful, brown canvas. 
Letting go of my walls with each fresh handful of paint, I found myself reborn, rejuvenated, liberated, sensual, alive.In those moments I began to melt away the inner critic, the HARSH words, the pain from the past and the judgement. I realized the disconnection between my TRUE self – the soul and this body.
I reclaimed myself. I reawakened the GODDESS.
Thank you to the UNLEASHED Project for allowing me to be vulnerable, move through my pain and self criticisms to a place of pure, divine consciousness.
I love this body. I am thankful for her always.
Get Unleashed
Unleashed is a therapeutic, social art project.  It empowers and enables women to express, love and accept themselves from the inside out, promoting body positivity and the celebration of a woman's whole unique beauty.   As the viewer or the muse, an apparent shift radiates out that permeates through society in ways beyond what is expressed through the resulting photographs. To attend an UNLEASHED event or learn more about the project by Melissa Vlahos, visit www.theunleashedproject.com