When I filled out the form to be a yoga teacher at The Yoga Expo in Fort Lauderdale I honestly didn't think I had a shot. Even as I was filling the sign up form out, sitting with my hand resting on my pregnant belly, I thought to myself, "Hmm my baby will be about six months old by then. I wonder what that would be like?"
In my heart I knew I wanted to teach there. But my fearful monkey mind kept quipping in, "Are you ready yet? Do you think you could really do it?"
I submitted the form and let it go. I knew the universe would open the way for me if I was meant to be there. Months went by and I had almost forgotten about it when I suddenly received an email to teach at the Expo. I was delighted!
So on April 16, 2016 at 8:00 a.m. I showed up at the Broward Convention Center as hundreds of yoga enthusiasts poured into the building. With brightly colored yoga pants (thanks to Liquido Active) and a bindi on my head, I shuffled through the crowd to my room. I was teaching Gentle Yoga and this was my first time teaching to a large crowd.
I was nervous and electrified all at the same time.
As soon as I got on the stage to teach and turned my music on, all my worries faded away.
This is what I learned from The Yoga Expo Fort Lauderdale – the first expo of its kind in the region!
There's a Beautiful Yoga Community in South Florida
As they say, "If you build it, they will come." Kyle Michaud, founder of The Yoga Expo and other festivals around the country, created this expo as a way to create community, allow yoga teachers to be recognized, and spread consciousness and clarity. There were thousands of beautiful souls at The Yoga Expo and everyone I talked to was friendly and caring. People poured in from Miami, Boca Raton, West Palm Beach, and of course the locals here in Fort Lauderdale. It was so lovely to see people holding hands, sharing, meditating and eating healthy vegan food. My heart was so full! I love my South Florida yoga community!
All You Need Is Love
Though I was nervous to teach at first, as soon as I got up on the stage it was as if Divine Spirit was talking through me. And the words that kept on coming out were "Love, community, brothers, sisters." I noticed how important it was to remind people that we are one and we are all in this together. During class I asked everyone to find a partner and do partner tree pose. It was so beautiful to see people working together. Giving and receiving. Practicing love.
At the end of the day- all we need is love (and our yoga mats of course).
Stay Hydrated
When practicing yoga, or any sport, it's important to stay hydrated. Luckily these awesome folk at Suja provided me with some yummy green juices right before I started class. There were so many awesome vendors at The Yoga Expo including my other fave juice company Raw Juce (from Boca Raton). The only down side I would say is there was no place for water (except for the water fountains). For next time I would recommend free water or a water fill up station if you remind the yogis to bring their water bottles with them.
My favorite food of the day was from Atlas Meat-Free Deli. They had this absolutely amazing vegan Mediterranean sandwich which I wolfed down. ZOMG. I need more of their sandwiches in my life.
Sweet Surrender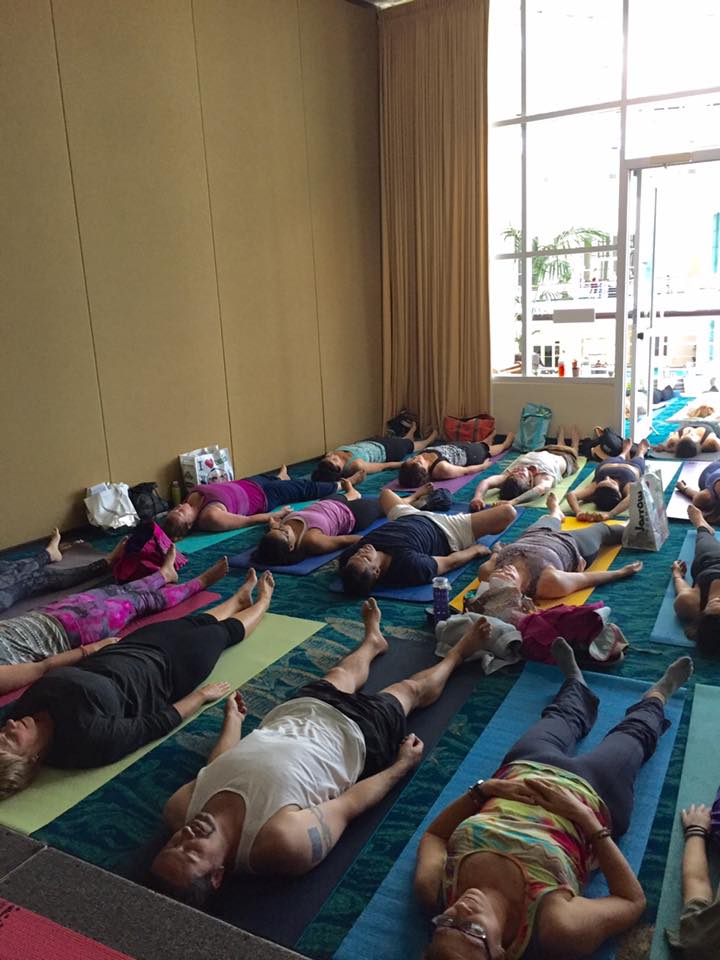 A magical thing happens when you let go and stop trying to control things – the Universe works through you. My favorite part of practicing yoga is the sweet surrender – the shavasana. I was lucky to catch Terri Cooper's class (awesome playlist by the way I never thought I'd be doing yoga to Beyonce). She is such a skilled and talented yoga instructor and shiner of the light. My favorite part was being in her sweet surrender shavasana. She guided us into it so beautifully and by the time I came back around I felt like I had spent an hour in the spa. Thank you to all the amazing yoga teachers and meditation leaders who shared their talents and gifts at The Yoga Expo.
Keep Following Your Dreams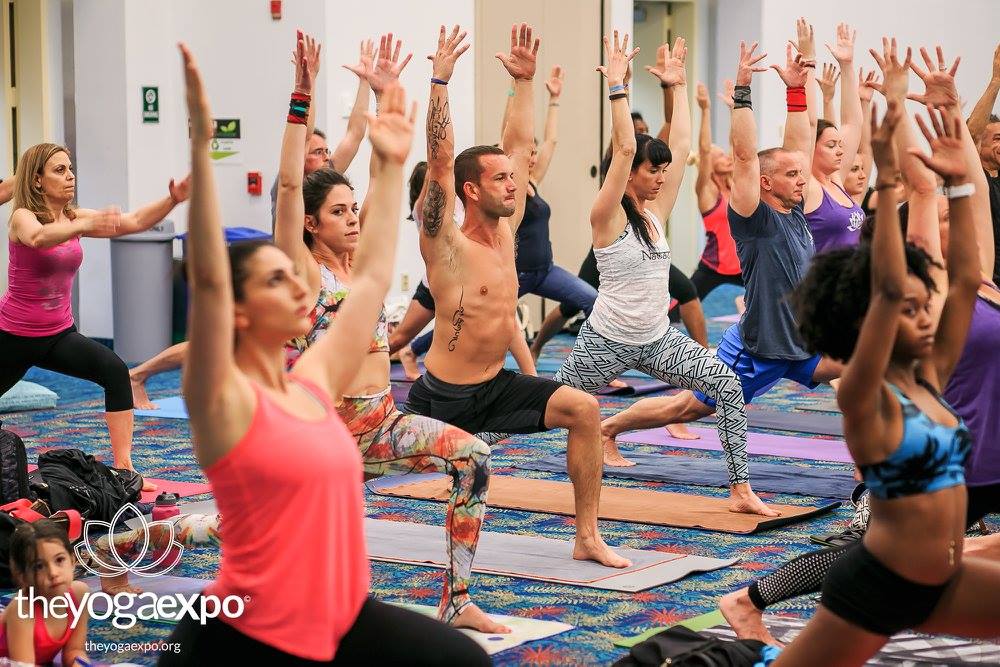 How amazing is it to participate in yoga with thousands of other like-minded individuals? When I got home I was just buzzing from excitement and SO ready to do it all again.
So guess what?
I am doing it all again! Join me at The Yoga Expo- Los Angeles on December 17, 2016.Bring your yoga mat and a smile and leave the rest to me. <3  Keep practicing, keep sharing, keep spreading love.
Namaste,
Suki